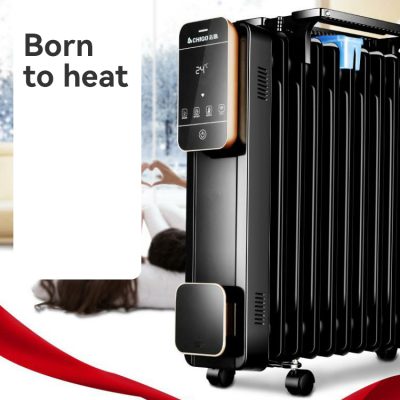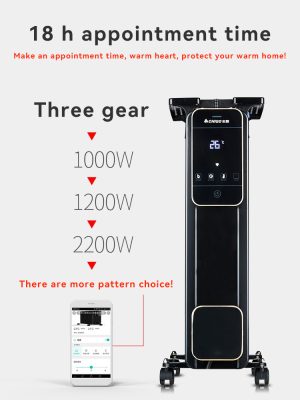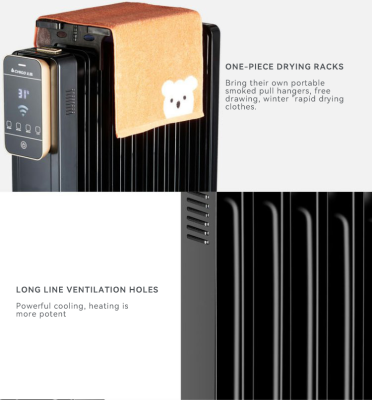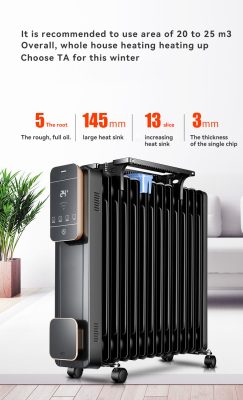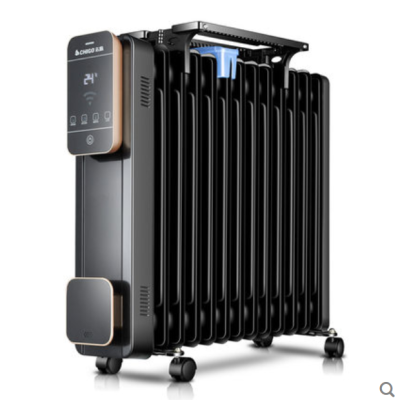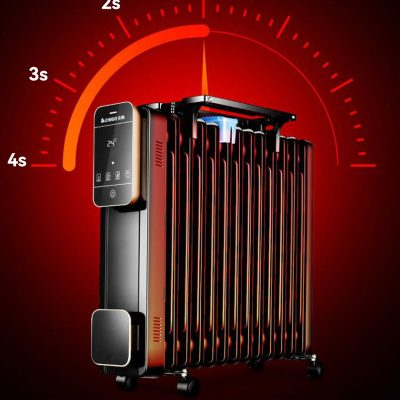 Product Name
Oil Filled Radiator Heater
Fuction
Overheat protection.open window
Timer
Week timer
Other
wall mounted
Electronic thermostat+LCD display
Tip over switch
Power
400/600/800/1000W
OEM
Yes
Size
250*145*90MM
G.w kgs
2
MOQ
7
Payment
30% deposit by TT,the balance to be paid before shipment
Electric oil heater, also known as oil-filled heater, is a safe and reliable space heater popular in recent years. It mainly consists of sealed electric heating elements, metal heating pipes, iron heat sinks, temperature control elements, power switches, indicators Lights, etc. In this heater, the electric heating pipe is installed inside the cavity of the heat sink, and heat conduction oil is injected around the electric heating pipe in the cavity. When the power is turned on, the heat transfer oil around the electric heating pipe is heated, rises to the upper part of the cavity, circulates convection along the heat pipe or heat sink, and radiates the heat through the surface of the cavity wall, thereby heating the space environment. The heat transfer oil cooled by the air descends around the electric heating tube and is heated again, starting a new cycle. This kind of heater is generally equipped with bimetal temperature control element. When the oil temperature reaches the set temperature, the temperature control element will automatically disconnect the power supply. Advantages: The biggest feature of this heater is that it emits a large amount of heat. Even in the case of a sudden power failure, it will maintain a certain temperature for a long time. At the same time, it does not produce any harmful gas and has no electrical noise. The surface temperature of the electric oil heater is relatively low, generally not more than 85 ℃, even if it touches the human body, it will not cause burns, and it is suitable for heating in places where the human body may directly touch.
Because the heat transfer oil in the electric heating oil does not need to be replaced, the service life is long, and the work is silent and light. It has the advantages of safety, hygiene, dust-free and odorless, so it is very suitable for use in bedrooms, living rooms and offices.
Disadvantages: The warm-up time of the oil heater is long, and the power is too large, so it cannot be used by households with small capacity or low voltage. In addition, oil heaters have the same disadvantage as heating, that is, it is easy to dry the air in the room, but the new oil heaters have a humidification function to make up for this deficiency.